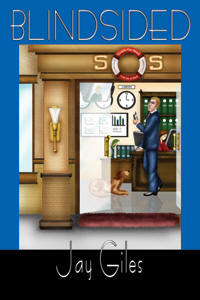 Jay Giles is an award-winning writer in a different genre—advertising. You've seen his work on national television and in magazines and newspapers. During his career as an agency writer and creative director, he has marketed products from automobiles to whisky, earning more than 500 honors for creative excellence. He and his wife divide their time between homes in Cincinnati and Sarasota.
Jay's debut novel, Blindsided, was published by Reagent Press in 2006
and is available in premium trade paperback, audio, and digital e-book editions. Soon also available in a premium hardcover edition with a slipcover. Blindsided is a thriller starring Matt Seattle, a Sarasota stockbroker.
Jay's second novel, Time on the Wire, was published by Reagent Press in 2008. Time on the Wire is a thriller starring Miles Marin, adventure junkie and Mercedes-Benz sales representative. Miles has an expensively dressed, striking blond woman offer to buy the most expensive car on the Mercedes lot—if—Miles will do one favor for her. Miles senses this woman is trouble but his boss wants the sale. The favor turns out to be the opening gambit in the kidnapping of Jens Beck, a high-ranking Mercedes marketing executive.
Jay's third novel, Moneymoon's End, is a thriller starring Martin Dunn. It started with a phone call and an offer Martin Dunn couldn't refuse. He sold his business for $100-million and thought the stress would be over, that he could have a normal life, and that he could live happily ever after. But now the deal's in question and it seems everyone is out to get him..
J. R. King completed his debut novel at 12 and the novel was published in June 2006 when he was just 14 years old. Shortly after his first book was published, King completed work on his second novel. With his second novel's early 2008 publication, King at 15, joins the ranks of a rare cadre of teen authors with multiple books in print. Read this novel and see for yourself why people all around the world are so excited. King's books are available in hardcover, trade paperback, digital e-book, and audio.

The Wizards of Skyhall books are about Arianna Kelt, a reformed thief and wizard seer.
Now you wouldn't think being a wizard seer would be such a big deal, but it is a big deal to the Wizards of Skyhall. For you see, those particular wizards are sworn to protect the citizens of Earth from all the things they shouldn't know about, namely wizards, warlocks, and all the creatures of the magical realms that no humans should know exist. Beware the Law Gnomes... Enter Skyhall and become a wizard if you dare!
Tom Schwartz was born in December 1930, in Brooklyn, NY where he attended Public Schools including the Manhattan H S of Aviation Trades. In 1951 he enlisted in the Navy and won a "Fleet" appointment to the Naval Academy in Annapolis, Maryland. Upon graduation, he served in the US Air Force where he spent most of his 27 years in the Research and Development area. After retiring from the Air Force as a Lt. Col., he worked for Computer Sciences Corporation (CSC) as a Program Manager. He now resides in Melbourne, Florida, where he continues to work for CSC part time, and enjoys writing nature stories for children. He is a guest speaker at the elementary schools in central Florida, and has been to over 60 schools speaking to 2nd through 5th grade students (about 18,000 of them, so far). The book, "How Mother Nature Flowered the Fields of Earth and Mars," is included in the elementary school's Renaissance Learning Accelerated Reader Program.
Tom also writes in other genres. His mystery/thriller "Wrongly Accused" was
published in early 2008. Wrongly Accused is the first of three Jack Shepherd novels.
His science fiction story, "Spaceship Earth: A Beginning Without End," will be published in Fall 2009. The thrust of the story is mankind's determination to survive the dying of the Earth's Sun and the next "Big Bang." The time span covers the present cycle of the "Big Bang" in a fast moving, dynamic manner.
Recently, Tom's Spaceship Earth was featured in a local Florida newspaper, the Viera Voice.
Spaceship Earth also has received favorable reviews from Midwest Book Review and other media sources.
Jonathan Hickman is an attorney who lives in Georgia. Jonathan's book, The Taster, was published in 2008. Struggling with dyslexia and learning disabilities, Jonathan W. Hickman grew up watching movies and learning to read. By high school, Jonathan had learned to read well enough to complete comic books and to skim larger works of fiction. He found text books and non-fiction to be easier to manage given their layout and devoured them staying up all night before an exam to digest every word of text. Eventually, he graduated as valedictorian and went onto college at Mercer University in Macon, Georgia, where he achieved degrees in English and Political Science.

After attending law school at the University of Memphis, Jonathan returned home to Newnan, Georgia, where he practiced law privately for eight years. While teaching business law for 3 years at a local University, he constantly encouraged his students to read and often used classic works of literature in classroom examples. He now serves as the Public Defender for the State Court of Coweta County. Jonathan lives in Georgia with his wife and daughter. While Jonathan was writing THE TASTER, his daughter would rather chew on "Tarzan" than listen to her father read it to her.


Robert Stanek is the award-winning, international best-selling author of 70 books for young people and adults. Robert was born in Burlington Wisconsin. He is the second youngest of five children. In 1985 he enlisted in the Air Force and entered a 2-year training program in Intelligence and Linguistics at the Defense Language Institute. After graduation he served in various field operations duties in Asia and Europe. In 1990 he won an appointment to Air Combat School and shortly after graduation served in the Persian Gulf War as a combat crewmember on an electronic warfare aircraft. During his two tours in the Persian Gulf War, Robert flew numerous combat and combat support missions, logging over two hundred combat flight hours. His distinguished accomplishments during the war earned him nine medals, including the United States of America's highest flying honor, the Air Force Distinguished Flying Cross, the Air Medal, the Air Force Commendation Medal, and the Humanitarian Service Medal. He earned 29 decorations in his 11-year military career.

Born into a family of readers, Robert was always reading and creating stories. Even before he started school, he read classics like Treasure Island, The Swiss Family Robinson, Kidnapped, Robinson Crusoe, and The Three Musketeers. Later in his childhood, he started reading Jules Verne, Sir Arthur Conan Doyle, Edgar Rice Burroughs, Ray Bradbury, Herman Melville, Jack London, Charles Dickens, and Edgar Allan Poe. Of that he says, "Edgar Allan Poe can be pretty bleak and dark, especially when you're ten years old. But I remember being fascinated with his stories."


Robert completed his first novel in 1986 when he was stationed in Japan but it wasn't until nearly a decade later that his first book was published. After writing his master's thesis on the Internet and electronic publishing revolution, his professor encouraged him to get it published and that is exactly what he set out to do. His first book became a bestseller as did his next two books. Since then, he has written and had published more than 65 books.

Robert has won many awards from his colleagues and the publishing industry. Currently, he resides in the Pacific Northwest with his wife and children. For fun he used to spend a lot of time mountain biking and hiking, but now his adventures in the great outdoors are mostly restricted to short treks around the Pacific Northwest.